TELEPHONE DIRECTORY OF SLOVENIA

THE ONLY OFFICIAL AND UNIVERSAL SLOVENIAN TELEPHONE DIRECTORY
THE BIGGEST
circulation among Slovenian books

RETAIL
is the most searched for
TOP REASONS FOR ADVERTISING IN THE TELEPHONE DIRECTORY OF SLOVENIA
Advertise in your industry and make sure you are always top-of-mind.
Reach over 129,000 unique users per month on the 12th most visited website in Slovenia (according to MOSS) or opt for 16,000 yearly printed or 2,000 half-yearly DVD circulations.
Build-up inquires with cost-effective advertising in the Telephone directory of Slovenia.
ONLINE, DVD AND PRINT
VISITORS
CURRENT AND ACCURATE CONTACT INFORMATION GUARANTEE TELEPHONE DIRECTORY'S HIGH REACH ONLINE AND A HIGH DEMAND FOR PRINTED AND DVD COPIES.
ADVERTISING POSSIBILITIES
RETAIL, BARS AND RESTAURANTS, TRANSPORTATION AND ACCOMODATION ARE AMONG THE MOST SEARCHED FOR INDUSTRIES ON ITIS.SI. MAKE SURE POTENTIAL CUSTOMERS FIND YOU BEFORE THE COMPETITION.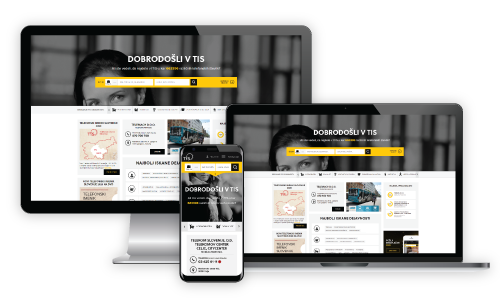 ARE YOU INTERESTED IN ADVERTISING IN THE TELEPHONE DIRECTORY OF SLOVENIA?
Contact our digital advertising specialists. E: oglasevanje@tsmedia.si T: +386 1 473 00 10 F: +386 1 519 73 88